CredAvenue
---
Skills and expertise you'll require
---
Roles and Responsibilities
Pioneering the Startup 2.0 concept, CredAvenue is an organization on a mission to deepen and power the $120Trillion global enterprise debt market which would unlock a GDP multiplier and thus create massive economic value.
For India, which is the first target market, the CredAvenue marketplace is leading to an empowerment of both SME and larger enterprises on one side, and the ease of efficiently growing a healthy loan book for the larger Banking ecosystem on the other.
Perks
Learning Programs
We have a dedicated budget of INR 75,000/year that you can use towards pursuing learning programs/certifications/attending conferences.
Life Insurance
Life insurance (10X your Fixed annual CTC) and Critical Illness cover (7X your Fixed annual CTC).
Group Medical Insurance
Generous health insurance for you as well as your dependents, including parents or Parents in laws upto INR 800,000 for self and dependants.
Childcare
15k per month per child for all working parents towards nanny/creche expenses.
Life@CredAvenue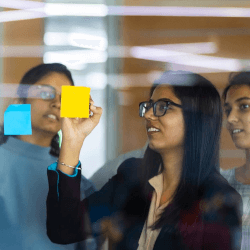 CredAvenue Epic Funding: Series A led by Sequoia Capital
Watch as our Founder and CEO - Mr. Gaurav Kumar - takes a moment to reflect on the journey, disclose our new milestone, and lay out our next goals.
Life at CredAvenue
At CredAvenue, we always believe in pushing the boundaries. Amidst the challenges of the pandemic, the CredAvenue family kept on striving for innovative solutions to continue transforming the debt markets and made us the largest debt marketplace in India.
Office Locations
Chennai
Mumbai
Bengaluru
Gurgaon